Welcome Dear Ones,

I dedicate this website to assisting our brothers and sisters, our beloved planet, and all Beings as we move together into an Age of Spiritual Empowerment, Love Without Conditions, and Unity Consciousness.
Healing is a spiritual journey through which we return to Source by serving others with Compassion, Non-judgement, Forgiveness, and Divine Love. When we serve another, we serve ourselves, for All are One.
To begin this journey, each one must start with him/herself, as the world we experience is a reflection of our inner state. I have been on a spiritual path for many years now. My journey has taught me many lessons and shown me the freedom there is when we stand in our Divinity. To create Peace in the world we must each find peace within ourselves. Each day, we can integrate whatever comes up, changing patterns that no longer serve us or humanity. When we are no longer at war within ourselves, we create peace within and without. As above, so below. As within, so outside.
I have come to realize that we are all knowing powerful beings with the ability to co-create our lives.
Now is the time to choose to
be a Conscious Creator.
Now is the time to wake up
and remember
Who you are.
To experience a world of Abundance, we must each choose to align our vibrations with the frequency of Abundance. Set the intention to create the alignment. Hold powerful images of a world where there is more than enough for everyone. Eliminate scarcity consciousness inside yourself. Abundance is our birthright. The Beloved Mother Earth is designed to support Abundance for all.
In my work I have dedicated myself as a facilitator. Helping you find your inner strength to take back your personal power and to take charge of your life. Assisting you to find the courage to move forward on your path. I encourage each individual to be independent, rather than to rely on someone outside themselves for information, knowledge, and answers. In addition, I work with my Higher Guidance and with yours to make each session productive and meaningful.
I am very passionate about my work. I am as comfortable in the ethereal realm as in the physical realm. I realize that we are multidimensional beings and am honored to be in the position to assist you in your journey.
I am a Minister of the Universal Life Church, which believes in the doctrine of Religious Freedom and in doing what is Right according to one's own spiritual beliefs. I encourage each person to be true to his or her own path.

I am licensed skin care speciaist, state and nationally certified massage therapist and a certified yoga instructor.
Namaste'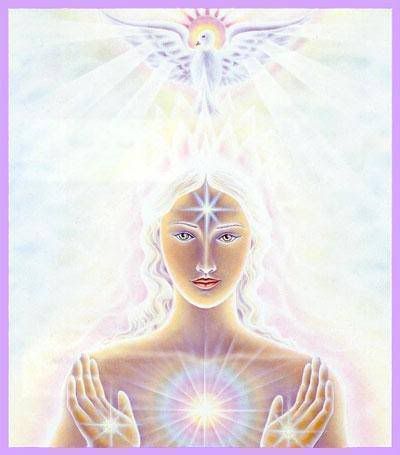 I AM the Light Divine
I AM the Love
I AM the Will
I AM Source's Perfect Design
I AM THAT I AM